Hello and welcome to Maldwyn Dragons.
The best venue for gymnastics in Powys. We want you to come to love gymnastics as much as we do and join us in sharing British Gymnastics aspirations that gymnastics will be seen as one of the top three sports in the UK by 2017.
Gymnastics is a terrific sport for young people. It provides an outstanding way for students to test their mettle against themselves and others. The benefits of this dynamic sport are improved fitness, coordination, strength development and flexibility but it doesn't stop there. Regular participation in gymnastics develops determination, discipline, performance skills, social skills and self-confidence.
However, the number one reason to enrol yourself or your child in gymnastics is because it's fun. Our gym is the one place that people can run, bounce, leap, swing and flip in an enjoyable, safe and supervised environment. Learning to fly through the air is anything but boring and there is always new skills to develop, appealing to everyone from toddlers to veterans.
Come along and see for yourself. A warm welcoming to all.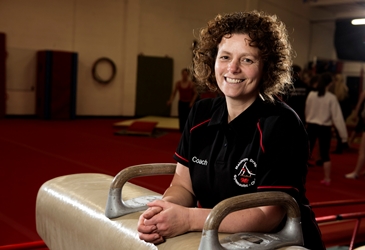 Julia Rees and Ed Williams – Head coaches