Maldwyn Dragons Gymnastic Club has its own designated facility based in Newtown, equipped with Olympic standard, specialist gymnastic apparatus.  We run classes 6 days a week, for every age and ability of potential gymnast.  The club has been running for seven years, previously within Maldwyn Leisure Centre, currently with over 300 members.  Recently we won 'Montgomeryshire Club of the Year' in the Powys Sport awards for 2014.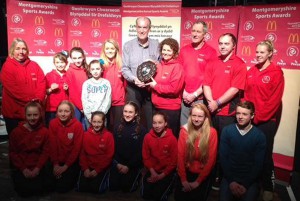 We offer classes in artistic gymnastics, cheer-leading, trampolining and free style gymnastics.
Julia Rees is the club's Head Coach, Director and founding member with an impressive list of qualifications and awards to her name.  Most recently winning an 'Outstanding Achievement' award at the 2014 Powys Sport Awards and holding the title of 'Welsh Gymnastic Coach of the Year' in 2013.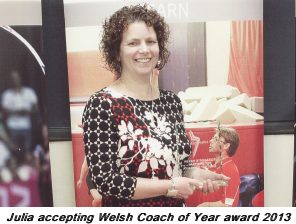 "I am very proud of Maldwyn Dragons.  We have grown from a small club with 20 members into the professional, dynamic organization it is today; attracting members from across Powys and representing a Flagship club for gymnastics, including disability gymnastics."
 An area where Maldwyn Dragons have taken the lead is by offering 'exclusively boys' gymnastic sessions in Powys.  Research suggests that one of the reasons that male participation in the sport is relatively low, is due to boy's reluctance to attend mixed sessions with a heavy female bias.  In 2009, Maldwyn Dragons addressed this issue by setting up a Saturday morning boys club, which has gone from strength to strength and now has over 80 boys regularly attending.
Ed Williams is our Head Boys Coach and is also a director of the club.  He won the title of 'North Wales Coach of the Year' in 2012.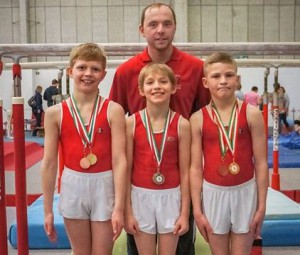 "Part of Welsh Gymnastics strategy for 2012 was to increase the number of boys participating in gymnastics and in 2013 British Gymnastics have undergone a complete overhaul of the performance pathway for men's Artistic Gymnastics.  Therefore, this is an exciting time for boys to become involved in gymnastics and with our own facility and new equipment, we are well placed to develop some future champions."
The Maldwyn Dragons gymnastic club have six fully qualified coaches, with over 75 years of combined coaching experience.  In addition, we are pleased to be training six new coaches who are currently working towards their qualifications.
Sport Wales have developed an initiative called Insport, intended to support clubs in providing sessions for disabled people in their communities.  Having initially been awarded the Ribbon Level Insport accreditation in 2012, Maldwyn Dragons have gone on to be the only club in Powys to gain both the Bronze and Silver Level Insport award in 2013.  This ensures the club receives extra advice and support in reaching its goal of equity in sport.  The club received its Gym Mark accreditation in 2010 and has successfully maintained this annual standard ever since.
Maldwyn dragons are proud to have mentored satellite gymnastics clubs within Powys at Llanfair Caereinion, Llanidloes and Llandridnod Wells.  These clubs run independently to Maldwyn Dragons, however, we organise friendly competitions between the clubs.  In addition there is a Powys team and a development squad, with members selected from all regions, who meet in Newtown every month for extra training on a Sunday.